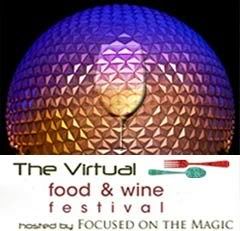 In celebration of the Epcot International Food & Wine Festival going on from September 19 until November 10, 2014, several Disney bloggers have put together a virtual version of this special event. We will each be sharing a recipe from one of the countries represented at the Food & Wine Festival. We invite you to join us as we virtually eat our way around World Showcase!
Italian food, especially pizza, has always been one of my favorites. Located in World Showcase, Italy's new Via Napoli restaurant specializes in pizza. In fact, they actually import water from Italy in order to make the pizza dough as authentic as possible. Among the pizzas offered at Via Napoli is the traditional Pizza Margarita. This pizza features the colors of the Italian flag through the use of red tomatoes, white mozzarella, and green basil.
Pizza Margarita is a delicious Italian dish you can easily make at home. For my version of this pizza, we will actually be making a Pizza Margarita flatbread. This recipe makes two flatbreads, but can easily be modified to make as many flatbreads as needed.
Ingredients
2 Flatbreads
Olive Oil
1 Garlic Clove
2 Roma Tomatoes
Fresh Basil Leaves
Shredded Mozzarella
Before you begin preparing the pizza, put  your pizza stone into the oven. With the pizza stone in the oven, begin pre-heating it to 400 degrees. Pre-heating the pizza stone will help your flatbread to crisp as soon as it is placed on the stone. If you don't have a pizza stone, this dish can be made on a regular pan; however, I did have a slight issue with the flatbread sticking to the pan when I tried this. Using a pizza stone will eliminate any sticking.
Once your pizza stone is pre-heating, you will need to slice up the roma tomatoes. If you don't have roma, other types of tomatoes will work for this recipe; however, I prefer roma tomatoes due to their smaller size.
Next chop up the clove of garlic into small pieces.
Then cut the fresh basil leaves into small strips. If some of the leaves are rather small, you may just want to leave them whole.
Pour just a little bit of olive oil into a small dish.
Once the oven and pizza stone are pre-heated, use a pot holder to remove the pizza stone from the oven.
Place your flatbreads on the hot pizza stone to begin constructing your pizza.
The garlic and olive oil will serve as the sauce for the Pizza Margarita. Using a basting brush, brush each flatbread with olive oil. You'll want to use just enough to lightly cover each flatbread.
Next, sprinkle half of your chopped garlic evenly across each flatbread.
Cover each flatbread with a layer of shredded mozzarella. There is no set amount of cheese needed. Just cover it with cheese until it looks right to you.
On top of the layer of cheese, place the strips of fresh basil. Again, there is no set amount of basil needed. It's really up to you how much or how little basil you prefer on your pizza.
Once the mozzarella and basil have been placed on your pizza, top it off with the roma tomato slices. I generally use one whole tomato per flatbread, but really the amount of tomato needed will vary based on the size of your flatbread and the size of your tomatoes.
Once your pizza toppings have been added, it's ready to  go in the oven. My flatbeads were baked for about 12 -13 minutes; however, I recommend checking your flatbreads after about 10 minutes. You will know they are done cooking once the cheese has melted.
The finished Pizza Margarita flatbreads are delicious! In fact, my husband and I have prepared this several times over the last few weeks. I love that we can use fresh basil from our herb garden for this quick and easy Italian meal!
Be sure to visit the links below for more Virtual Food & Wine Festival recipes!



Photo credit: hubsterdisney / Foter / CC BY-NC